Langkawi in Malaysia is one of the popular tourist destinations in the country because of its pristine natural beauty comprising of 99 islands on the west coast of Malaysia. With tourists coming here to break away from the monotony of their daily lives, hundreds of hotels ranging from local homestays to 5-Star beach resorts can now be booked depending on their budget.
But how do you go about choosing the best place to stay? For those looking to splurge on luxuries of the high life, Four Seasons Resort Langkawi offers the best retreat. It will offer you escape from the hustle and bustle of ordinary life.
Ideal things to look for
Star-rating
There are many 4-Star and 5-Star hotels available that claim to provide exceptional services, but do they deliver? Check out user reviews instead of hotel ratings to find out for sure.
Architecture
Every hotel should have a distinct taste in their decorate and overall architectural theme. Otherwise, it just falls into the category of a boring place to stay. Do a quick photo search about the hotel you want to book to see what kind of architecture it has been built.
View from room
This is the main thing most tourists look for in destination hotels. Be it the sea, mountains, or the forest, providing a window view to nature's wonders always puts a hotel in a high-ranking. Be sure to pick a room that gives you an unobstructed view.
Room service
Guests are the reasons why the hotel business is in existence, and hence, the satisfaction of the guests should be the priority of every hotel. Read user reviews about experiences of the guests before booking a spot for your own.
Customer satisfaction
All the factor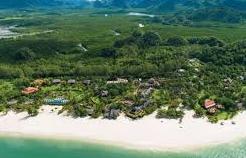 s mentioned above lead to this aspect. Customer satisfaction ensures that they come back to stay again and give a chance to a hotel to offer their hospitality. Overall customer satisfaction goes a long way to lending credibility to the services of a hotel.
Attractions in Langkawi
This beach destination offers tourists a chance to soak in the sights and sounds of Malaysia that is widely different from the city experience. Often preferred by Honeymooners for the beautiful and natural romantic scenes, you can indulge in numerous activities such as Cable car rides along the beach, Snorkeling, Scuba diving, organize a trip to the Tanjung Sanctuary, or just lay back and relax by the beachside in your comfortable recliner. The options are endless in this top tourist destination in Malaysia.…